ClearCorrect Invisible Braces for a Beautiful Smile while Straightening your Teeth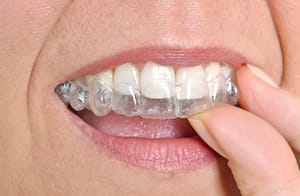 ClearCorrect invisible braces provide straightening treatment while looking your best! If you are an adult who needs braces, you may be apprehensive about getting big metal braces that are not aesthetically pleasing to the eye. You want to feel confident about your smile not only after your braces come off, but during.
If you've ever wondered about invisible braces work, their costs, and who they work best for, then reach out to our dental clinic today.
ClearCorrect works by using a series of custom-made, clear aligners. Whether your teeth are crowded, too far apart or have shifted, ClearCorrect invisible braces may be right for you. Upon an initial examination, Dr. Graham Farless will decide if ClearCorrect is right for you. He will then write a treatment plan and take an impression of your teeth. The aligners will move your teeth gradually week by week until you achieve the smile you have always desired.
Also, it's important to remember that even though you may want to straighten your teeth for cosmetic reasons, straighter teeth and a proper bite are beneficial to periodontal health.
Don't wait another day! Get those braces you've always needed without compromising your confidence. Make an appointment with Dr. Graham Farless in Greensboro, NC at 336-282-2868. Visit our website at www.gsodentist.com.