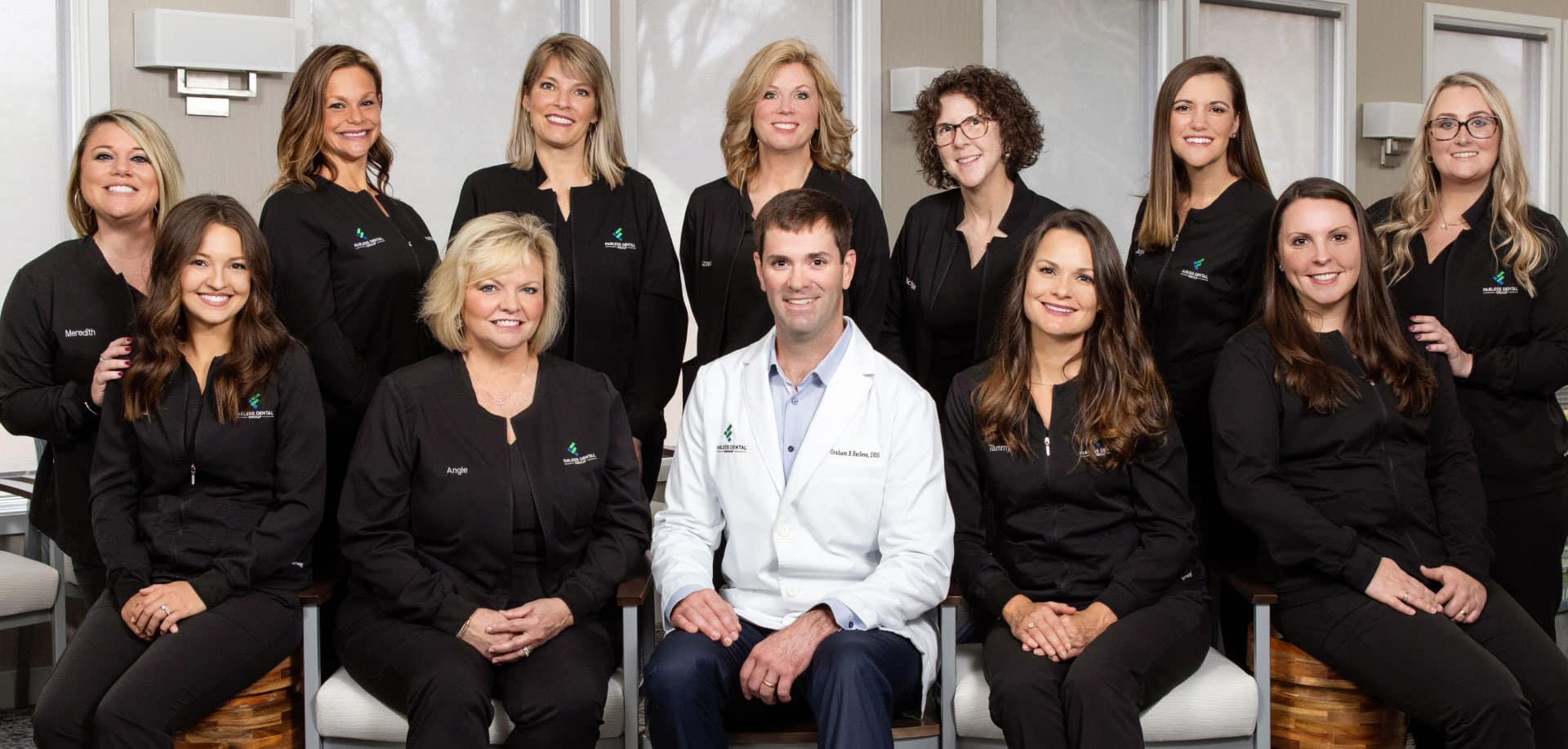 Meet the Farless Dental Group Team
Get to Know Our Doctor and Staff
A visit to the dentist should feel like a visit with a friend. We strive to make every patient feel this level of comfort from the moment they step through our door to when they take a seat in their dentist's chair.
Our team looks forward to getting to know you, but while we're waiting for your visit you can get to know us.
Dr. Graham E. Farless, D.D.S.
Born and raised on his family's farm in Merry Hill, Dr. Farless learned many life lessons, including the importance of honesty, hard work, and determination. These early experiences in his life would go on to shape his performance in sports in high school as well as form the foundation for pursuing a career in dentistry.
Dr. Farless attended the University of North Carolina at Chapel Hill, completing a B.A. in Biology and later his Doctorate of Dental Surgery through the UNC School of Dentistry. The motivation behind this career choice was a deep desire to make a difference in someone's life by providing compassionate and exceptional dental care.
Throughout his career, Dr. Farless has continued his education by taking advanced courses in dental implant placement, bone grafting, CEREC crown technology, cosmetic dentistry, and orthodontic aligner systems—just to name a few. Additionally, Dr. Farless is a respected affiliate of numerous professional associations, including the following:
American Dental Association
North Carolina Dental Society
Guilford County Dental Society
American Academy of Cosmetic Dentistry
Academy of General Dentistry
Fellowship in the International Congress of Oral Implantologists
Cone Health Dental Service
In Dr. Farless's free time he enjoys spending time with his wife, Katherine, their three sons, and their two family dogs. They often spend time in the mountains of North Carolina hiking, hunting, fishing, and simply exploring everything this beautiful region has to offer.
Jamie knew she wanted to be a dental hygienist after shadowing our very own Michelle Marine, who was Jamie's hygienist at the time. She has continued her education with courses in advanced ultrasonic instrumentation, advanced implant instrumentation, and oral pathology identification. Jamie has one son and a very sweet pit bull named Millie Moo. She enjoys hiking, traveling, and riding motorcycles.
Tammy graduated from Guilford Technical Community College and became a dental hygienist over 20 years ago. She has been with Dr. Farless for 10 years and feels just as passionate about helping patients now as she did on her first day. Tammy also has additional training in advanced ultrasonic instrumenting, oral pathology, smoking/vaping cessation support, and forensic odontology. Out of the office she stays busy with her teenage sons and travels as often as possible.
Addie graduated from Virginia Western Community College as a dental hygienist in 2017 and joined our team three years later. She is passionate about dental care and has additional training in sleep apnea management, pediatric oral medicine, periodontitis treatment, and oral cancer screening. Addie spends her time with her family and Hallie Jane, her golden retriever.
Jaclyn began her career as a dental assistant before completing her degree as a dental hygienist at Guilford Technical Community College. She has pursued further education by taking classes in oral pathology, root canal therapy, ultrasonic scaling technique, and more. Jaclyn is married and has two kids. When she has free time, you can find her with her family hiking, biking, and fishing.
Angie has worked in a few different offices over her 25-year career as a dental assistant but now calls our practice her home. She has many years of continued training, including certifications in CEREC, ZOOM! and KöR whitening, staining and contouring e.max crowns, and assisting in dental implant surgery. Angie loves interior design, cats, and a great glass of wine.
Jessica has been with us since 2020, but she began working as a dental assistant in 2000. In addition to her decades of experience and education, she has additional certifications and training in CPR, CEREC, and a level II dental assistant certification. Outside of work, she enjoys spending her time outside with friends and family and her goats and chickens!
Meredith has been on our team since 2016 as a dental assistant and has pursued further certifications in SPICE, Six Month Smiles, Invisalign, Nitrous Oxide, and CEREC, to name a few. When Meredith isn't busy helping patients with their smiles, you can find her relaxing at Ocean Isle Beach or at a baseball game cheering on The Braves!
Suzanne has been working in the dental field for 16 years and recently joined our team as a dental assistant. Her favorite part of being a dental assistant is seeing the sheer joy patients experience when they finally have the smile they've always dreamed of. Suzanne has two grown daughters and enjoys expressing her creative side through photography, DIY projects, and gardening.
Michelle is a long-time member of our team with nearly 30 years of experience in the dental field. She is our senior office administrator and a registered dental hygienist with a degree from GTCC. Michelle has been married to her high school sweetheart for over 20 years and has two kids. She's crazy about houseplants and is quite the marksman in recreational sport shooting.
Joy has worked as a dental assistant for 17 years after completing her degree at GTCC. For the past 9 years, she has been an office administrator for the Farless team. Joy is married with two kids and loves nothing more than spending time with her loved ones. She continues to further her education in dentistry, including CEREC technology and emergency medicine.
Tiffine is both a certified dental assistant as well as a patient treatment coordinator. She has over 14 years of experience as a dental assistant but moved onto the business team to continue assisting patients in new and rewarding ways. She comes from a big family and has two sons of her own to whom she dedicates her free time.
Smile More with Farless Dental Group
The Farless Dental Team will meet your family and cosmetic dentistry needs and provide the comfort and peace of mind you deserve!